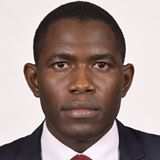 Dr. Ouma Oluga
Moi University kite is flying higher after an alumnus was appointed the president of all health workers in the world. Dr. Ouma Oluga, an erstwhile student of Moi University, graduated from the School of Medicine in 2010.Dr. Ouma was serving as the Secretary General of Kenya Medical Practitioners, Pharmacists and Dentists Union (KMPDU) before his appointment to the top position in the global health fraternity. He will now lead a global coalition dubbed as --Health Workers 4 all-that was incepted last year to advocate for universal access to skilled health workers everywhere in the world.
But the lofty position didn't come on a silver platter, it has been hard gained. The leadership skills that Moi University instilled in him has seen him champion for the rights of health workers. During his stint as the secretary general of KMPDU, he led the negotiation that borne an amicable return to work formula between the striking medics and the government after the nationwide strike had escalated for 100 days.
Currently, the mother to Dr. Ouma Oluga-the school of medicine- ranks second best medical training faculty among the available eight medical training schools from different universities. Under the altruistic and visionary leadership of Prof. Lukoye Atwoli, the school of medicine hold the promise of churning out medical practitioners with a knack for solving health challenges in health discipline both nationally and globally.
Just like one plus one naturally makes two, Dr. Ouma Oluga new found job deserves a contender like him. Moi University trusts that you will continue with the spectacular work of championing for the rights of the health workers. We wish you all the best as an ambassador of the university. Congratulations are in order.